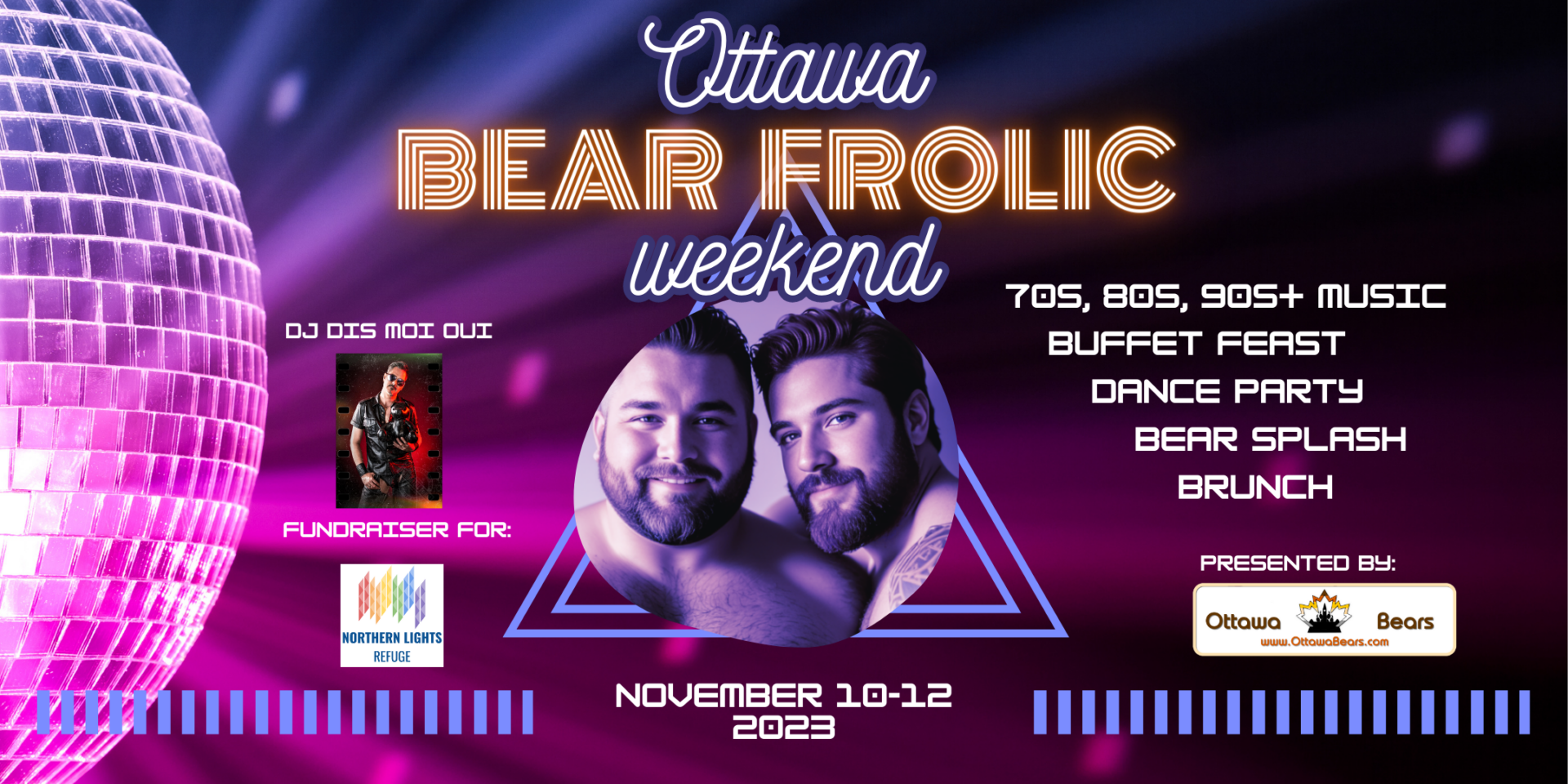 Get Your Dancing Shoes On!
Join the Ottawa Bears for a wild and fun-filled weekend of dancing and camaraderie at Bear Frolic!
Get ready to dance the night away with fellow bears and bear admirers.
The Courtyard Marriott Downtown, located in the ByWard Market, has a large ballroom that offers the perfect setting for an unforgettable dance event.
Whether you're footloose and fancy free or just looking to have a good time, Bear Frolic has something for everyone. Featuring the legendary DJ Dis Moi Oui spinning the hottest tracks from the 70s through today, you'll be grooving to a mix of musical genres that will keep you on your feet all night long.
Don't miss out on this incredible opportunity to connect with other bears from near and far and to let loose on the dance floor.
There will be a cash bar and plenty of room to sit and socialize.
You didn't think we'd just leave it at one single party did you?
We've planned a whole bunch of other fun events to fill your weekend and make it worth the trip to Canada's capital city!
Other events that are planned for the Bear Frolic Weekend (November 10-12) are:
For those who have never attended the yearly Remembrance Day Ceremony, it is a time for reflection and gratitude for those who served their country and kept us safe in dangerous times.
Featuring a veterans parade and speeches from dignitaries, it also will include an aerial fly-by.
Did someone say wet fur??
We've reserved the hotel pool just for us! Come join us for an invigorating swim with your fellow bears, cubs and pups.
This is it! The party you've been waiting for.
Spinning dance tunes to span the decades, DJ Dis Moi Oui will have you shakin' your money maker until the cows come home!
9pm: Great dance songs from the 70s
10pm: Remember the 80s
11pm: Dance tracks from the 90s through today
There will be a cash bar for all your beverage needs and comfortable seating for all your intimate conversations.
Join us for a survivor's brunch at Spin Kitchen & Bar (100 Kent Street).
Featuring an extensive array of mouth watering breakfast dishes and made-to-order omelets, it's guaranteed to fill you up and revive your spirits.
The cost will be $28 + tax and tip and includes coffee, tea or juice.
Tickets to Bear Frolic dance can be purchased from Eventbrite using the button below.
Ticket cost is $25 until November 1, $30 after November 1, $40 at the door. Eventbrite adds a credit card fee to the cost of the ticket.
Note that your ticket grants you entrance to the dance party and the pool party but all other events (brunch, supper, cocktail party, etc..) are at your own expense.
Also, you must secure your own accommodations if you wish to stay at the host hotel.
We have negotiated an excellent rate with our host hotel, the Courtyard Marriott Downtown, which will allow you to be right in the middle of everything. The dance party will take place in the hotel's ballroom along with the cocktail reception and the pool party. Additionally, the Courtyard Marriott Downtown is situated in the heart of the ByWard Market and is only steps away from Parliament Hill and a whole lot of bars, restaurants and shops.
Our special room rate of $150CAD per night is guaranteed until October 20. Use the button below to book a room now and be part of this amazing weekend of fun and dance!
Alternately, you can contact the hotel directly at  (613) 241-1000 and specify the group code "Bear Event".